Disney is scrubbing the use of "ladies and gentlemen, boys and girls" from its theme parks to make them more welcoming, a company executive said in a video posted online.
Vivian Ware, Disney's diversity and inclusion manager, made the remarks in a video posted to Twitter Tuesday by writer Christopher F. Rufo. The video comes as the entertainment giant has found itself in the middle of culture war battles, facing pressure to oppose Florida legislation critics say undermines LGBTQ rights.
In the video, Ware appears to be giving a presentation over video linked with the title "reimagine tomorrow" on the side of the screen. Ware said that last summer, Disney removed all gendered greetings in live spiels, narrations that accompany attractions.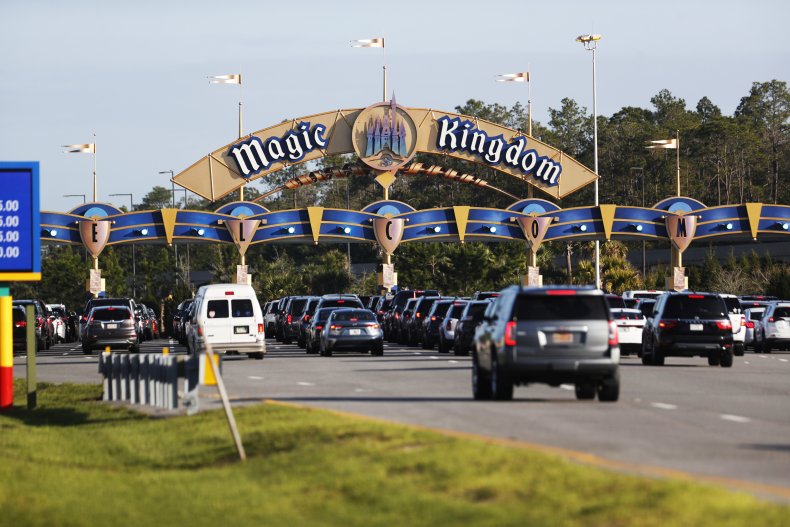 "So we no longer say 'ladies and gentlemen, boys and girls,'" said Ware in the video. "We've provided trainings for all of our our cast members and in relationship to that so now they know it's, 'hello everyone' or 'hello friends.'"
She said that Disney is in the process of changing the recorded messages at its parks. The phrase "dreamers of all ages" has replaced "ladies and gentlemen, boys and girls" for announcements at the fireworks show at the Magic Kingdom in Florida, she said.
Ware said removing gendered language from Disney parks has given cast members more opportunities to be creative while interacting with guests. She encouraged those on the call to think differently about engaging guests "in a meaningful and inclusive way that makes it magical and memorable for everyone."
"We want to create that magical moment with our cast members, with our guests," she said. "And we don't want to just assume because who someone might be in our interpretation, maybe presenting as female that they may not want to be 'princess.'"
Disney's use of gender-neutral language isn't unique, and other companies have altered how they refer to customers in the face of shifting social expectations. British Airways last year followed other airlines in instructing crew members to drop "ladies and gentlemen" in favor of gender-neutral language when speaking with customers.
However, Disney faces particular pressures. Earlier this month, the company faced a possible employee walkout meant to pressure Disney to oppose the so-called "Don't Say Gay" bill in the Florida Legislature. Disney owns several properties in Florida, such as Disney World in Orlando and has been a major political donor.
The bill, signed by Florida Governor Ron DeSantis, was presented as a parents' rights measure intended to prevent young children from being exposed to sexually inappropriate content in schools. But critics say it'll marginalize LGBTQ students and banish needed conversations about sexual orientation from classrooms.
While Disney came out against the bill, the company was criticized for not taking a stronger stance sooner.
Conservative critics of Disney, including DeSantis, have accused the company of going "woke," buying into an extreme social justice agenda.
Previously, Rufo, a writer for the right-leaning City Journal and Manhattan Institute for Policy Research, has posted internal Disney documents online asking employees to complete a "white privilege checklist" and to pivot from "white dominant culture."
Newsweek has reached out to Disney for comment.
This content was originally published here.